Community projects
The Tesoro Escondido Reserve is committed to supporting local communities in capacity building on issues relevant to well-being and sustainable development of the area.
DONATE TO THIS PROJECT
First aid workshops
These workshops are provided each year in different communities, the focus is the treatment of common wounds in the field. We provide first aid kits for participants and diplomas. These workshops are provided thanks to the support of Dr. José Rivera and his team of students.
Agroecology Project
Our agroecology project began at the Cristóbal Colón community led by Engr. Daniela Montalvo, with the aim of improving food sovereignty and security. This project involves 15 young people, most of them women, in the construction and maintenance of a 400m2 agroecology garden, in which around 40 edible and medicinal species were planted, in addition to a communal compost and worm compost. This project has been extended to other communities at the schools and high-schools through our environmental education programme.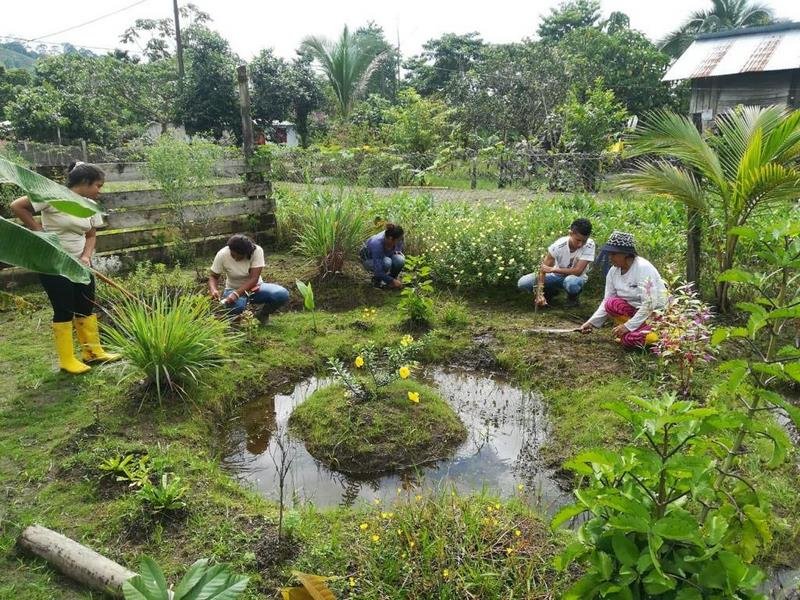 Community Reforestation Project
This project financed by ABC (American Bird Conservancy) together with Jocotoco Foundation, seeks to reforest 20 hectares with 20 thousand native plants in four communities. The project is led by Dr. Citlalli Morelos and parabiologists Paola Meza, Thalia Giler and Yadira Giler. Work is carried out in four communities with the aim of reforesting pastures and monocultures in order to recover streams, connectivity and biodiversity. Reforestation is carried out with at least 25 species among natives of the Chocó lowland forest and fruit trees from the area. This project also includes biodiversity monitoring and guidance workshops focused mainly on birds, in order to promote tourism focused on bird watching.
Would you like to contribute towards this project?